Thanks to cameras installed on the roofs of our Parisian site, we can observe the ballets of all kinds of birds
Thanks to cameras installed on the roofs of our Parisian site, we can observe the ballets of all kinds of birds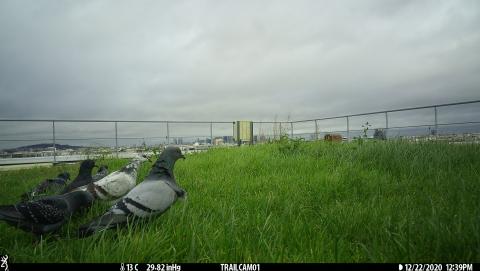 Groupe Rocher has been committed to biodiversity since its origins.
It is therefore with unbridled joy and great wonder that our Parisian teams were delighted to see that magpies, starlings, pigeons and crows had taken up residence on the roofs of the site.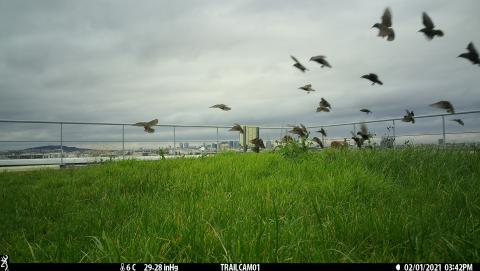 These observations make it possible to count the birds, to identify the species, to analyze the frequencies of passage, to analyze the behavior, to study the interaction between fauna and flora... all this in order to collect scientific data. These images and videos taken day and night will then be used to evaluate and monitor over time the impact of our site called Cap Rocher on the ornithological fauna. But also to have indicators of environmental changes, local around the site. And finally to enrich the academic databases on the ornithological fauna of Ile-de-France.
Our Cap Rocher site is classified as an "LPO Refuge" and these observations, made possible by the installation of a camera on our roofs, confirm this. The 2,200m2 of green spaces that make up the Cap Rocher site have been designed in collaboration with the League for the Protection of Birds to create an ecosystem that is as local as possible. The site is ideally located in front of the Ile Saint Germain Park and the 1,000 m2 of interior patio is home to nesting boxes for sparrows, chickadees and robins. The installation of a nesting box for rattlesnakes on the vegetated terraces, a species that needs height for nesting, gives hope that it will be used by one of the falcons observed on the Ile St-Germain Park. Lighting has also been designed to reduce the impact on the surrounding wildlife, and the lights are turned off every night between 10 p.m. and 6 a.m. Special glazing was also installed to avoid bird collisions in the windows.
We are proud to promote biodiversity on our site and to discover such pictures showing once again, all the beauty of nature that surrounds us.
#BirdsWatching #DevelopmentResponsible #ReconnectPeopleToNature #MissionDrivenCompany