Personal data and protection policy
What is the purpose of our Personal Data Protection Policy?
It is important to us at Groupe Rocher to emphasize our commitment to respecting the trust that you place in us and to applying the personal data protection regulations in force in France and the European Union.
This Personal Data Protection Policy sets out the conditions under which Groupe Rocher, as data controller, collects and uses your personal data. This Policy supplements the information brought to your attention when filling in our forms with your data.
This Policy applies to data collected by email, letter or telephone when you contact our various departments, or when you use our website or its mobile version. It concerns rules relating to the personal data of all of our clients and prospects, irrespective of the channels through which they are collected.
It can be consulted by anyone and at all times at groupe-rocher.com
Please read it carefully and refer to it regularly.
In addition, the Groupe Rocher brands have their own personal data protection policies. Please consult each of these policies when browsing our various websites.
What data do we process and for what purposes?
For each processing operation, we collect and use only the relevant necessary data for the objective in question.
We use your data in order to pursue our legitimate interests, ensuring that your rights and interests are respected at all times, and where necessary based on your express consent.
The length of time for which your personal data are stored depends on the purpose for which they are used.
The principal purposes for which we may process your personal data are the following: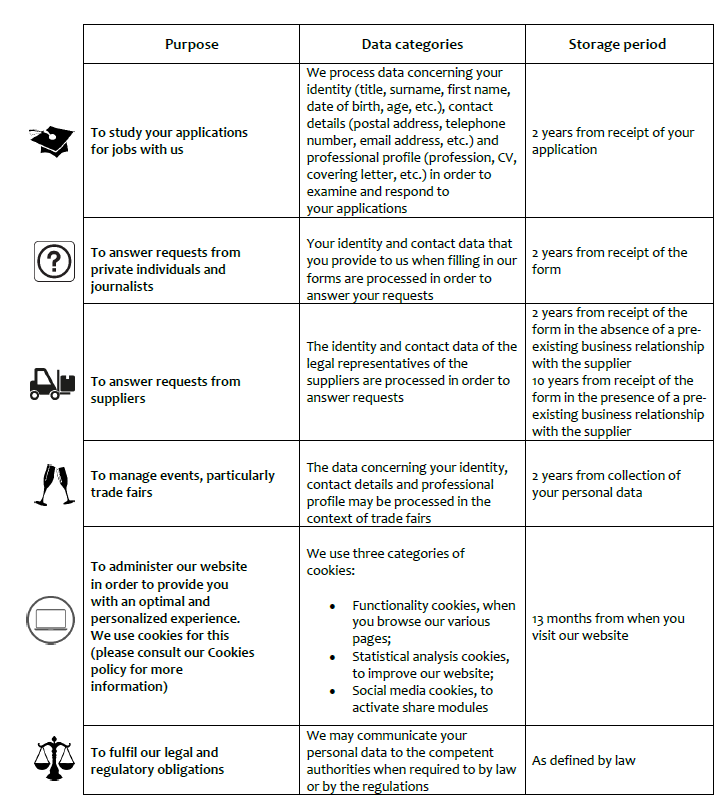 Who will receive your data?
In the framework of the purposes set out above, the recipients of your personal data are the duly authorized personnel of Groupe Rocher, of its service providers and of its subcontractors.
Your personal data may be communicated to one or more Groupe Rocher companies.
Your data may also be communicated to the competent authorities, either at their request or in order for us to fulfil other legal obligations.
How do we ensure the security of your data?
We use appropriate technical and organizational measures to protect your data, notably encryption, anonymization, and the implementation of physical security procedures in order to ensure a level of security in line with the risks related to your personal data. We follow the best practices of the sector to ensure that your personal data are not accidentally or illicitly destroyed, lost, altered, or disclosed without authorization and that they are not accessed without authorization.
We require our personnel and all third parties working for Groupe Rocher entities to respect strict standards of information safety and protection, including contractual obligations under which they undertake to protect all data and to apply strict measures in terms of the transfer of data.
Are your data processed outside the EU?
We may transfer your data to a country located outside the European Union.
When your data are transferred to a country outside the EEA, we always ensure that they are protected and that they have the same level of protection as that provided by us, in compliance with the protection granted in the jurisdiction in which the data are collected. To do that, we submit all transfers of your data to the appropriate and relevant protection measures.
There are various ways of doing this, for example:
the country to which we send the data may be approved by the European Commission or by the local data protection authority;

the recipient may have signed a contract based on the "standard contractual clauses" approved by the European Commission, or by the local data protection authority, obliging it to protect your personal data; or

when the recipient is located in the United States, it may be a certified member of the EU-U.S. Privacy Shield system.
Under other circumstances, the law may authorize us to transfer your personal data to other jurisdictions, including outside the EEA, if applicable. However, in all cases, we will ensure that any transfer of your personal data respects currently applicable data protection legislation.
What are your rights?
In accordance with the applicable regulations, you have various rights that you can exercise at any time:
You have the right to access, correct and delete your personal data, as well as the right to request the portability of the data that you have given us.
You have the right to oppose the processing of your data for legitimate reasons, or to request the limitation of this processing.
You have the right to make provision for what happens to your personal data after your death.
How to exercise your rights?
To exercise any of your rights, send us an email to privacy@yrnet.com , or write to us at: Laboratoire de Biologie Végétale Yves Rocher - Group DPO, 7 chemin de Bretagne, 92130 Issy-les-Moulineaux, France.
We will respond at the earliest possible opportunity and at the latest within one month of receipt of your full request. In the event of reasonable doubts regarding your identity, we may ask you for additional information (i.e. proof of your identity) in order to confirm your identity. We reserve the possibility to refuse requests that are manifestly unfounded or excessive.
Groupe Rocher has appointed a Data Protection Officer (DPO) whose mission is to ensure respect of the applicable regulations and the rules set out in this Policy.
For any questions or comments relating to the processing of your personal data, you can contact our DPO by email at privacy@yrnet.com, or by writing to us at: Laboratoire de Biologie Végétale Yves Rocher - Group DPO, 7 chemin de Bretagne, 92130 Issy-les-Moulineaux, France.
We undertake to do our utmost to respect your rights relating to your personal data. However, should you consider that these rights have not been respected, you have the possibility to file a complaint with the French Data Protection Authority (CNIL), which in France is tasked with ensuring that the personal data processing regulations are respected: www.cnil.fr
How do we use cookies?
For more information about our commitments regarding the use of your browsing data, please consult our Cookies Policy.
How to stay updated of changes to our Data Protection Policy?
We undertake to update as often as necessary this Policy which is freely accessible on our website and whose application covers the relationship between Groupe Rocher and the visitors to its website, irrespective of the context of this relationship: internet, letter, or telephone.
Introduction
This Cookies Policy gives you more information about the origin and use of browsing data that is processed when you visit the groupe-rocher.com website. This Policy also informs you of your rights. This Policy is therefore important for you in your desire to have a positive and trustful experience of our products and services and for us in our desire to give accurate and comprehensive responses to your questions regarding the use of your collected browsing data.
When visiting our website, information about how your device (computer, tablet, smartphone, etc.) browses our website may be saved in "Cookies" files installed on your device, depending the preferences you have expressed in relation to Cookies, which you can change at any time.
How are the cookies issued on this website used?
When you visit our website groupe-rocher.com, we may, depending on your preferences, install various cookies on your device which allow us to recognize your device's browser throughout the validity period of the cookie concerned. The Cookies that we issue are valid for up to 13 months and are used for the purposes described below, subject to your preferences, which result from the settings of the browser used when visiting our website.
We use 3 categories of cookies:

Des cookies de fonctionnalité

Des cookies d'analyse statistique

Des cookies « réseaux sociaux ».
Functionality cookies
Functionality cookies enable us to adapt the presentation of our website to your device's display settings (language, screen resolution, operating system, etc.) when you visit our website, according to your device's hardware, viewing software and video software.
Statistical analysis cookies
Statistical analysis cookies enable us to establish statistics and levels of traffic and use of the various elements of our website groupe-rocher.com (sections and content visited, clickstreams), enabling us to improve its relevance and user-friendliness.
"Social media" cookies
We may include third-party software applications on our website which enable you to share content from our website with others. This is particularly the case of the "Share" and "Like" buttons, which come from social media such as "Facebook" , "Twitter" , "LinkedIn", "Messaging" , etc.
The social media that supply such application buttons may use them to identify you, even if you do not use them when visiting our website. Indeed, this type of application button may allow the social media concerned to track your browsing of our website, simply because your social media account is active on your device (open session) while you browse our website. We have no control over the processes used by social media to collect information about your browsing of our website and in combination with any personal data they have. Please consult the privacy protection policies of these social media in order to familiarize yourself with the purposes for which browsing data collected using such buttons is used, particularly in regards to advertising. These policies should enable you to exercise your preferences, particularly via the settings of each social media account.
The issue and use of cookies by third parties are subject to the privacy protection policies of those third parties. This Policy concerns the purpose of the cookies known to us and the means at your disposal for making choices in relation to them.
Your choices concerning cookies
You have several possibilities for managing cookies. Any settings that you use may modify your web browsing and your conditions of access to certain services that require the use of Cookies.
When you visit our website groupe-rocher.com, a banner enables you to save your preferences concerning our Cookies.
You can also choose at any time to express and modify your wishes in relation to cookies, using the methods described below.
The choices offered by your browser
You can configure your browser so that cookies are either saved on your device or, on the contrary, that they are refused, either systematically or depending on their issuer. You can also configure your browser so that the acceptance or refusal of cookies is proposed from time to time, before a cookie is likely to be saved on your device. For more information, consult the section "How to express your choices, depending on your browser?"
Accepting Cookies
For cookies to be saved on a device essentially depends on the wishes of its user, which they can express or modify freely and at any time through the choices offered by their browser.
If you accept for your browser to save cookies on your device, the cookies incorporated in the pages and content that you consult may be stored temporarily in a dedicated area of your device. They can be read only by their issuer.
Refusing Cookies
If you refuse for cookies to be saved on your device or if you delete those already saved, you can no longer benefit from a certain number of functionalities necessary in order to browse certain areas of our website groupe-rocher.com.
How to express your choices, depending on your browser?
When it comes to managing cookies and your preferences, the configuration of each browser is different. It is described in your browser's Help menu, which will explain how to modify your preferences in terms of cookies.
Please note that this procedure does not prevent advertisements from being displayed on your device. It only blocks the technologies that adapt advertisements to your browsing and to your centers of interest.
Please bear in mind that a cookie is required for your preferences to be taken into account. If you delete all the cookies saved on your device (via your browser), we will no longer know that you have selected this option.
Managing your cookies online using interprofessional platforms
You can also visit the website Youronlinechoices, proposed by the professionals of the European Digital Advertising Alliance (EDAA) and managed in France by the Interactive Advertising Bureau France.
As such, you can familiarize yourself with the companies registered on this platform and which offer you the possibility to refuse or accept the cookies used by these companies to adapt to your browsing data advertising that may be displayed on your device: http://www.youronlinechoices.com/fr/controler-ses-cookies/.
This European platform is shared by hundreds of web advertising professionals and constitutes a centralized interface enabling you to express your refusal or acceptance of the cookies that may be used to adapt to your browsing data advertising that may be displayed on your device. Please note that this procedure will not present advertisements from being displayed on the websites that you visit. It will only block the technologies that adapt advertisements to your centers of interest.
If you share your device with other people
If several people use your device and if the same device has several browsers, we cannot be sure that the services and advertisements intended for your device do indeed correspond to your own use of the device rather than that of someone else.
If this is the case, sharing the use of your device and the configuration of your browser settings in terms of cookies with others is a matter of your free choice and responsibility.
.