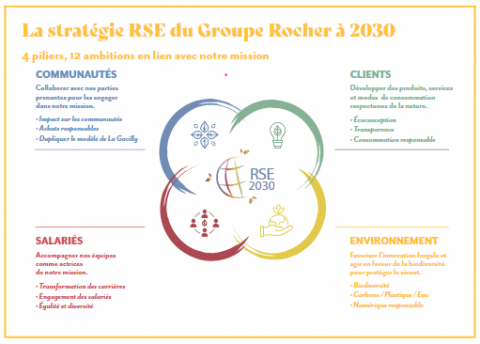 Based on four pillars, these 12 ambitions constitute the CSR* roadmap common to all the group's brands and businesses. This roadmap lists the priority objectives and the means to achieve them through concrete action plans.  
For each ambition, specific objectives for 2025 and 2030 are shared with the brands and central teams concerned to ensure that they are integrated into the CSR* strategic plans. 
*CSR: Corporate Social Responsibility.
B Corp, a tool for our CSR strategy
The group's objective is to be B Corp certified by 2025. This label will enable the Groupe Rocher's CSR strategy to be enhanced in line with its mission and will be a real recognition of the Group's desire to have a positive impact on its environment while being profitable. 
Becoming a B Corp is a committed vision for a common future, where companies have a real role to play for societies and citizens. 
Today, our Arbonne brand is already B Corp certified.
All about Groupe Rocher's commitments