Operational management and deployment of short and medium term strategy
THE KEY CHALLENGES TO TACKLE AND THE ROLE OF THE EXECUTIVE COMMITEE 
To ensure the deployment of Groupe Rocher's strategy and the success of the collective project, the Executive General Management team focuses on the operational management of the business, and the deployment of strategy in the short and medium term. It will strive to steer, decide and act in line with the priorities set by the Chairman.
These priorities for the next three years are as follows:
Improving the group's profitability,

Meeting its financial commitments,

Preparing for the future, particularly through addressing the environmental and social issues that are at the heart of the group's mission.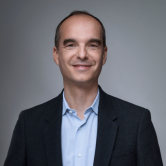 "To make

this mandate successful

, we are going to initiate a new way of working across the entire group organization, based on mutual commitments: trust, freeing up energies, giving greater autonomy and making people accountable for results. To this end, I am pleased to present below the new Executive Committee, whose composition has been designed to represent at the highest level the brands and products that are at the heart of the group's value creation."
Jean-David Schwartz
Group Chief Executive Officer
EXECUTIVE COMMITTEE MEMBERS
Chaired by Bris Rocher and headed by Jean-David Schwartz, the Executive Committee is made up as follows: 

Chief New Product Development Officer