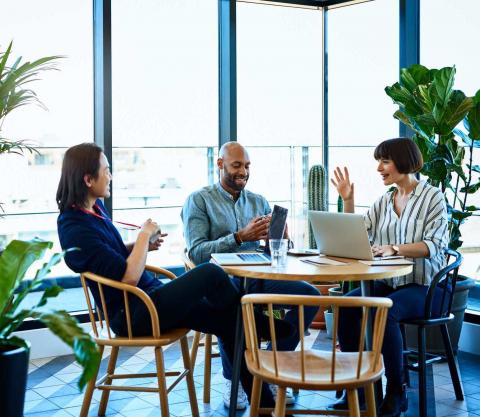 Expertises
Working towards the positive transformation of Groupe Rocher by combining economic, environmental, and social objectives is what the Responsible Development teams aim to do every day.
Social and environmental responsibility has been fully incorporated in Groupe Rocher since the start. Through our ten brands, at all our locations and in each of our positions across the board, our employees are ambitiously committed to furthering respect for mankind and nature.
People from many departments are mobilized every day to design and deploy a CSR* strategy, from product design and manufacturing to distribution and use by our customers. Their tasks include research and innovation, agronomy, responsible purchasing, studies and prospection, marketing and innovation, development, packaging eco-design, logistics and distribution, retail and training, real estate management, human resources, and more. This is how employees with a variety of profiles, ranging from technical experts, strategic project managers, and engineers to marketing and communication managers, are able to take action, hand in hand, to ensure a prosperous, sustainable future for Groupe Rocher.
*Corporate Social Responsibility
Profiles
You are passionate about the challenges of CSR and innovation. You want to apply your entrepreneurial spirit and flexibility to the environmental cause and labor relations. You are meticulous and independent. You have experience leading projects and you know how to manage priorities.
You have excellent people skills, a capacity to communicate with all levels of management, and excellent adaptation abilities. Your highly analytical mind and versatility help you move forward with varied projects involving multiple professions. You enjoy community leadership. You are engaging and inspiring in your interactions with other people when working on projects.
Thanks to your commitment and determination, you are able to reconcile economic performance with responsible development.
Jobs (evolutions)
CSR manager, CSR project lead, CSR engineer, CSR community and communications manager, head of CSR reporting, human resources and CSR manager, CSR purchasing manager, eco-design expert, etc. You deploy the Group's CSR strategy in partnership with the brands. CSR responsibilities are constantly changing to follow evolutions in social and environmental goals. Every one of us can change our profession to include sustainability criteria and shape the future of Groupe Rocher.