Marketing & Communication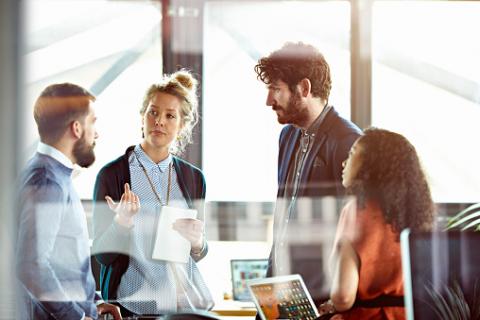 Expertise
The Communications department is responsible for conveying the values and image of the Group and its brands. A multitude of media, both on and offline, are employed to showcase the products and product lines, to position a brand, and share information about internal projects. This applies to all communications, whether they are internal, external, corporate, or promotional. 
The communications teams are charged with writing articles, posting to social media, filming and editing videos, and organizing events. Jobs in this field are as diverse as they are engaging. 
Profiles
A vast array of profiles find their place in communications, including those trained or experienced in journalism, visual communication, film making, and graphic design. Listening skills, independence, creativity, the ability to meet tight deadlines, and a meticulous work ethic are crucial. 
Jobs (evolutions)
Positions as press attachés, communications project managers, and community managers are just a few examples of the vast array of jobs in a department where opportunities to grow and evolve are widespread. Team members are innovative and often wear many hats. International mobility can diversify employee career paths thanks to the presence of the Group's subsidiaries in more than 110 countries.
Marketing
Expertise
The Group launches more than 250 new products every year, evidencing the importance we place on innovation. The marketing team develops products and packaging. In close collaboration with the communications department, the laboratories, the factories, and international markets, it sets prices according to market trends. 
Some of our marketing teams are able to create direct links with our customers, which is essential to the Group's spirit. The Yves Rocher brand launched mail-order sales in 1959. Ever since then, the marketing sector has placed customers at the heart of a personalized relationship that fulfills their expectations. 
The international subsidiaries deploy marketing strategies designed for each market in keeping with the Group's values.
Profiles
Versatile, independent, and dynamic members of the marketing team coordinate and collaborate with an array of other departments. Teamwork and high energy levels are key to succeeding in these positions. 
Jobs (evolutions)
Marketing is a sector with a multitude of positions, including international relationship marketing manager, marketing executive, textile or gift product manager, and product manager for a specific brand. The Group's international presence is a key factor when considering a position in marketing, as there are many opportunities to evolve professionally and new positions in every country. 
Chief Marketing Officer, Arbonne
Je dirige des équipes exceptionnelles et très diverses, ce qui me permet de mettre à profit à la fois mon côté créatif, mes compétences commerciales ainsi que mon amour pour la science et l'innovation.
Chief Marketing Officer, Arbonne
No two days are ever the same... What are the different tasks that you lead within the Groupe?
I lead very diverse and wonderful teams within the CMO function at Arbonne that allow me to use a mix of my creative side, my business insights and my love for science and innovation.
I lead the creative teams, commercial marketing and field development, communications / PR and social, digital marketing, marketing product innovation and the research and development function across skincare, cosmetics, hair and nutrition.
In my role, I am responsible for leading the three year innovation calendar, creating the promotional and marketing plans, leading the creative design and branding for the company, developing the PR and social strategy, rolling out all digital communications including emails and promotions across the website, creating incentives for our field,  collaborate with third party manufactures, lead our new product innovation process and  help the R&D teams find new molecules, delivery systems  and ingredients and test all formulas for efficacy and safety.
What traits of your personality (or your qualities) does the Groupe value and allow you to express daily?
I love to drive change with a strong vision, strategy and purpose. The Group really allows me to nurture this passion as we elevate the Arbonne brand. Jean David leads our team to really focus on our purpose and express Arbonne's unique point of difference. Similarly, Vincent Nida is a great brand leader that constantly challenges our thinking and Bri Rocher focuses all of us around the power of nature. The environment created by our leadership allows me to think deeply about the future path of Arbonne – how can we modernize our business model, innovate beyond products into new services that connect with nature and fully commit to driving our purpose to empower others to flourish.  The role, company and business leaders at Groupe Roche all allow me to use my creativity, passion and collaboration skills to  build  a new vision with our teams. It is great because we have to use our in our day-to-day tasks and build this vision with the teams.
What is the last project that stimulated your creativity and you're proud of?
I have spent the past 8 months since joining Arbonne working on the new rebranding strategy. We are just about to launch the rebranding initiative starting in January 2020 . It will take about 18 to 24 months to fully roll-out across all of the packaging and products.  I am so proud of the work that we have done so far, including the great collaboration across the teams.
We are also working very closely with the international innovation and research department to improve our "clean" ingredient policy as a part of the Group Roche Ingredient Policy. Arbonne was very much a pioneer in clean beauty and health, and now it is exciting to push the business to the next level of clean as the industry catches up and Group Rocher is championing this effort.
If you had one adjective to describe Groupe Rocher, what would it be? And do you have an advice you would give to someone who also wants to join the Groupe?
Groupe Rocher is a very purpose-driven company led by strong leadership that has meaningful convictions about people and society. It is refreshing to be a part of a group that has such strong values that they put forward every day. The commitment to those values in the business model is very important, and it is a strong motivation and source of pride.
Commitment, respect, demanding and passion are the Groupe's four values. What if you only had to choose one?
I would choose passion. I am a very passion-driven leader and when people have a very strong emotional drive, it can help fuel and sustain all other important values. Once there is passion and conviction , it can help drive commitment, respect and a demanding nature. Where there is passion, there is typically a positive mindset and outlook on life, an openness to explore, and a curiosity to go further than what is expected.  This is extremely important for Groupe Roche, especially to innovate and attract future generations. Also, I believe strongly in energy and passion is connected to energy. Energy allows you to pass on this intangible emotion to others, allowing a ripple effect through the organization. In this way, passion can be contagious and a powerful source to propel Groupe Rocher into the future.