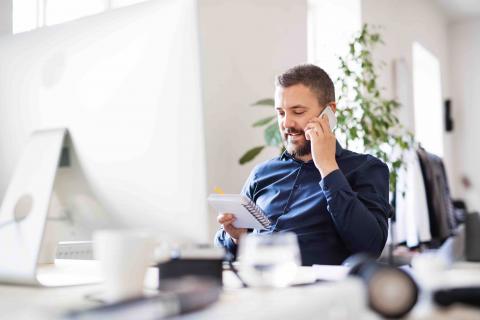 Expertise
Develop new partnerships and win new contracts, and also maintain existing relationships. The Business Developer's role consists of increasing sales revenue (sell-in) in a specific territory. Whether the territory is regional, national, or international, the Business Developer's job is to find a balance between a macro/strategic vision and the field.
Profiles
Good people skills, diplomacy, creativity, and an ability to find solutions on your own are the prerequisites for occupying the position of Business Developer at Groupe Rocher. You have a natural taste for prospection and you enjoy working within a cross-disciplinary team.
You must be fluent in a foreign language for international territories.
Jobs (evolutions)
Key Account Manager, Area Manager, and Regional Manager are just a few examples of the numerous possibilities for career evolutions among the various territories, both in France and abroad.
I think being a structured thinker and organized worker is key when you cover as many markets and subjects.
When and how did your Groupe Rocher adventure begin? And what position do you currently hold?
My love story with Yves Rocher brand started in 2011, working for International markets and more specifically Africa & Middle East region. After 3 years and a half handling partners on this area, I moved from Paris to China and integrated the Asian team. 3 years ago, we moved our Asian offices to Singapore from where I now lead the South East Asian operations as the Area Manager.
No two days are ever the same... What are the different tasks that you lead within the Groupe?
My main objective is to lead the market operations and strategically support my partners, from growth strategy, to pricing, eco-system approach or communication, but on top of all the business areas that my work allow me to cover, the most enriching for me is working in a booming region with amazing and vibrant partners from different culture and back-ground. 
So, while I share a lot about my knowledge of the brand everyday with my partners, I mostly learn a lot from them on their fast paced and constantly evolving markets and countries. As Parag Khanna said: the future is Asian. In the 19th century, the world was Europeanized. In the 20th century, it was Americanized. Now, in the 21st century, the world is being Asianized. And now Asia is teaching the world, including me.
What traits of your personality (or your qualities) does the Groupe value and allow you to express daily?
I think being a structured thinker and organized worker is key when you cover as many markets and subjects, so being able to synthetize our challenges to come-up with strategic solutions and then orchestrate our operations forces me to keep and intense rhythm, so I'd say being fast paced is the trait of my personality that I can express daily, I definitely never get bored. 
What skills has the Groupe enabled you to develop?
As I said a lot of my job involves talking and understanding the point of view of people from different countries, so interpersonal and cross-cultural conversation skills is definitely a strength that I have acquired and heavily developed in the past years.
What is the last project that stimulated your creativity and you're proud of?
I am very concerned about what is happening with our planet and the impact that our operations might have on the region, so my key focus has been to find ways to embrace change within a positive approach, engaging our local partners and consumers with the objective for our activity to leave zero trace in the region. Especially as plastic is a critical issue in a region surrounded by water and threatened by plastic. Finding a positive approach to that challenge is what stimulates my creativity the most, but also makes me proud when I see how the markets and our consumers have picked-up on our message and initiatives.
If you had one adjective to describe Groupe Rocher, what would it be? And do you have an advice you would give to someone who also wants to join the Groupe?
I would say: natural. This is our legacy, a vision that is at the heart of who we are, but also something that our consumers increasingly demand, so while others unfortunately only pretend to care about the future, women and the planet we live in, I think this is something that we should continuously be proud of.
Commitment, respect, demanding and passion are the Groupe's four values. What if you only had to choose one?
I would say passion. A bit of Asian wisdom I learned when our Asian office was in China: 
If you chose a job you love, you'll never have to work a day in your life.