Production, Logistics, Procurement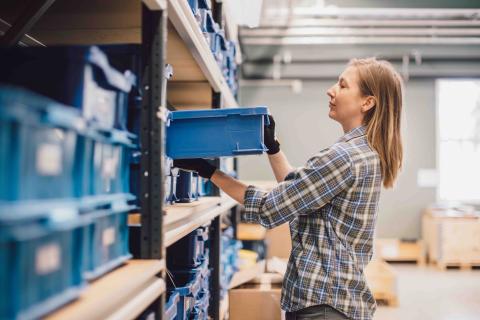 Expertise
In the heart of Morbihan, birthplace of Groupe Rocher, our teams endeavor daily to produce and ship the cosmetic products of the various Group brands in a spirit of sustainable performance that combines economic, environmental and human considerations. 
Across our 5 sites – 3 of which devoted to production and 2 to logistics – developing our products and getting them to our customers and stores calls on expertise in a variety of fields, including production, industrialization, maintenance, supply chain, order preparation, transport, product quality, customer satisfaction and health and safety.
Technical Experts, Technicians, Operators, Project Managers, Team Leaders, … all work together to fulfil Yves Rocher's vision: "each customer is a queen and must be treated as such".
Profile
At all levels, from vocational diploma to engineer, you are committed, passionate, a real team player, have a strong sense of customer service, and are not afraid to take the initiative. Autonomous and rigorous, you have the ability to combine economic performance with sustainable development.
Careers (prospects)
Line Operator, Production Manager, Lab Technician, Methods Technician, Team Manager, Quality Director, Safety Manager, Logistician, Planning Manager, Development Project Manager, Industrial Engineer, Lean Expert, Maintenance Manager, Forklift Driver, Supply Chain Expert, etc.
… Fulfil the requirements of the Group's cosmetics brands. Our production and logistics domains are subject to continued renewal in order to keep pace with the evolving social and environmental challenges. Each of us has the possibility to progress, within our current role or transversally, thanks to the Group's internal mobility policy.
Procurement
Expertise
Our Procurement teams challenge and assist the different Group Rocher entities in order to meet their needs and support their development strategies. They work transversally across the various business units and countries, on a varied and international procurement portfolio. Their objective is to offer the best solutions, taking into account economic, societal and environmental performance and with the various stakeholders working together.
Profile
Results-minded, a force for change and with a strong team spirit, you are an expert in procurement, at ease in both French and English. Autonomous and capable of self-challenge, you are passionate about improving our economic and environmental performance in this area.
Careers (prospects)
In the field of direct or indirect procurement, Buyer, Category Manager, Procurement Director, Procurement Technician… you work for the entire Group, its various brands and across all countries. You are involved in all areas of procurement: from the plant supply channels to IT, from transport to subcontracting... Therefore you have the possibility to progress within many procurement categories and/or in other roles within Development, Supply Chain, Marketing, etc.
Category Management
Connected to the markets at all times, the Category Management teams know the major challenges and define medium to long-term strategies for their supplier portfolios (target panel at 3-5 years).
Projects Procurement
Working in close proximity to the factories, the projects procurement staff are proactive and challenge their expectations. They negotiate new deals in line with the defined strategy and under the best conditions of quality, costs and deadlines.
Operational Procurement
Operational procurement staff ensure the correct fulfilment of the supply contracts in terms of quantity, quality and deadlines. They are the preferred contacts of the factories should requirements change.