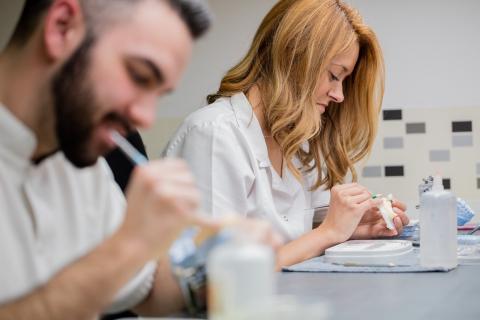 Expertise
At the crossroads of science and life, the cross-disciplinary actions of the I&D department allow you to evolve within an array of scientific branches. Ethnobotany, chemistry, agronomy, phytochemistry, skin biology, safety, microscopy, physico-chemistry, formulation, metrology, rheology, evaluation... Join our enthusiastic teams to dream up the products of tomorrow.
Profiles
You are curious, open-minded, and meticulous. You have a solid scientific and/or technical background gained from your schooling or your previous experience. You are innovative, responsible, and committed to inventing affordable, environmentally-friendly products suited to the needs of every single one of our customers. 
Jobs (evolutions)
Head of research, formulator, evaluator, formulation technician, cosmetovigilance manager... Whichever position you occupy at Groupe Rocher, it will be the beginning of a colorful story you'll build over the course of months and years. The possibilities for professional evolution are numerous, in I&D and in other departments, in France and abroad. (Note: should we really keep the notion of "international" in view of the fact that I&D has no international roles to date within the Group?)
Manager of Laboratories for Yves Rocher
People form a strong pillar of our company, so it is also essential for me to prioritize them in my missions.
Manager of Laboratories for Yves Rocher
When and how did your adventure with Groupe Rocher begin? ... and what is your current role?
After more than 10 years' experience acquired in various roles in R&D, regulatory affairs and raw materials procurement in small and medium sized firms specialized in cosmetics subcontracting, it was my ambition to join a cosmetics brand – if possible family-sized and French. Therefore, joining Groupe Rocher was a wonderful opportunity for me to fulfill my expectations. I joined the Group in October 2014 as Manager of the Personal Hygiene, Fragrances & Derived Products Laboratories for the Yves Rocher brand and for our outsourcing subsidiary, LECC. In September 2018, I had the opportunity to be promoted to Natural Formulas Innovation and Development Director. With my team, I am responsible for the various formulation laboratories of the brand Yves Rocher, Daniel Jouvance and LECC, the Innovation and Prospective Laboratory and the Industrial Pilot Unit. I took up this post during a time of major transformation of the brand and the market in general, with interesting challenges that lay ahead. It is extremely motivating to be part of all this with my team.
No two days are ever the same... What are your various missions within the company?
That is a good comment because each day is different! It is not so easy to summarize my missions... but if I had to prioritize, I would say that my primary mission is to provide the formulation vision at Yves Rocher, expressed in a charter that represents our brand identity, while also accompanying the other Group subsidiaries. We have to ensure the development of the various formulas in accordance with our internal I&D requirements (ingredients policy, naturalness, ecodesign, safety, efficacy, etc.), regulatory and economic requirements, and without forgetting time considerations! At Yves Rocher, our formulas respect the skin and the planet – they are effective, sensory and accessible!
People form a strong pillar of our company, so it is also essential for me to prioritize them in my missions. The Formulation Division was reorganized over a year ago now and it is important to accompany change properly – something which I would like to be able to devote more time to. 
This involves support, organizing training to ensure that the teams are upskilled correctly. In my opinion, the success of a team is among other things the result of good communication, listening and feedback, irrespective of whether that feedback is positive... It is very important that the team members all share the same vision – knowing that together we can go further!
In addition, I also devote time to managing the Division's budgets. It is my responsibility to steer them properly, flag up any deviations and get things back on track.
And finally, when it comes to continuous improvement, I am extensively involved in cross-disciplinary projects, whether or not they are related to the brand's transformation plan. It is very enriching to work in collaboration with other divisions.
What traits of your personality (qualities) does the Group value and enable you to express in your day-to-day work?
I am exacting, passionate, spontaneous and a natural go-getter. I like getting results and seeing projects progress. Challenges and moving out of my comfort zone are for me a major source of motivation along with risk-taking that is, of course, controlled and moderate.
As a result of these various traits, in addition to my professionalism and commitment, my superiors let me express myself, trust me and count on my support in the transformation project.
What skills has the Group enabled you to develop?
Although my previous experience enabled me to supervise various teams, I have developed my leadership and management skills thanks to rigorous training supplemented with a few team assistance sessions, which is a real privilege in our Group.
I have also been able to add to my experience of finance and the conduct of strategic projects. And – I forgot – above all, I have developed my botanical beauty expertise by joining Yves Rocher Laboratories.
What was the last project that stimulated your creativity and which you are proud of?
The latest project that I am proud of is not yet completely finalized but it is one of the real achievements of our transformation plan and marks a real change within formulation.
This project is the FormulaEcoDesign charter which includes the new ingredients policy but not just that. It is a collaborative project that we are managing with my team and the cross-disciplinary divisions.
An adjective to describe Groupe Rocher? And what advice would you give to someone who also wishes to join it?
The first adjective that comes to mind to describe Groupe Rocher, is "engaged".
And if I had to give advice to anyone wishing to join the Group today I would say, "if you see yourself in the Group's values, if you are motivated by a rapidly-changing cosmetics environment, then come and join us as you are, and bring us your vision! "
Engagement, respect, high standards and passion are the 4 values of the Group. If you had to choose just one, which would it be?
I would say engagement! Because I think that to succeed in one's missions, to take pleasure and achieve success, it is crucial to have faith, be engaged and even if you fail at times, those failures allow you to progress.